Good morning fellow crafters
Many thanks to all those who joined us on our last challenge
Please scroll down to post below and check out if you are 1 of our winners.
Thank you so much to all our followers and welcome to all our new ones
we hope you will join in the fun with us.
Before i go onto this months challenge it is with deep regret to say that this month will be the last challenge for our dear teamie Jackie.
Jackie has been with us from when Sparkles was first born and has contributed such a lot to the blog in the way of beautiful creations and always doing more than her share of the commenting, Jackie will be very much missed on our lovely team but we wish her well in ventures new and hope to keep in touch through blogworld.
So onto o
ur new challenge for you for this month which is
*
Away with the Fairies
*
We would like to see on your projects anything to do with Fairies and d
on't forget we are a multi crafts challenge so you can make anything you want so long as you keep to the theme set.
For this month we are being sponsored by the fabulous Di from
Di's Digis please pop over and check out the fantastic digi's she has on offer.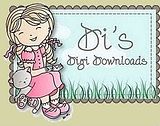 Prize $10 worth of digi's
Here are what our great DT have created for some inspiration
REBECCA
JO
LINDA
DAZIE
LESLEY
TRACEY
SHELL
Great work team x
For more information on how the DT have created their projects
please follow the links in the sidebar